The Los Altos Story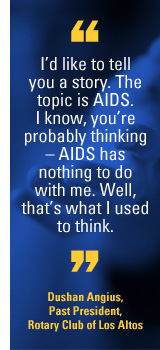 If you could walk down Main Street in Los Altos, California, you would find a typical small town like many others scattered across the United States or throughout the world. A family oriented community with quiet, tree-shaded streets, Los Altos is located in the heart of Silicon Valley. Many of the professionals and business executives who live here belong to the local Rotary Club.
In 1989 when the word AIDS was rarely spoken out loud, the members of the Rotary Club of Los Altos received a wake up call that became a catalyst to change people's lives forever.
In June 1989, then Rotary President Dude Angius shared his family's devastating experience when his son contracted AIDS. He asked club members to help him "do something about AIDS." Several months later, Walter Singer, who was often called Mr. Los Altos for his extraordinary volunteer work in the community, announced to fellow Rotarians that he had tested HIV positive after receiving a tainted blood transfusion during heart surgery. Members of the Los Altos Rotary Club were stunned. AIDS was no longer a remote statistic but a stark reality. These tragic events spurred club members to form the Los Altos Rotary AIDS Project (LARAP).
Inspired by the call to action from former Los Altos Rotary Club President Dushan "Dude" Angius, the Los Altos Rotary AIDS Project accepted the challenge to promote awareness of AIDS through education and information by sharing the dramatic story of how AIDS changed the opinions, outlook and lives of three Rotarians, their families and an entire community. A 30-minute video called "The Los Altos Story" was produced in association with award-wining producer Gregory Hoblit. The sensitive film, written and directed by former NBC news correspondent Robin Young, captures the emotional trauma of the disease in a compelling and dynamic way.
With the belief that Rotarians should take a leading role in the global fight against the lethal disease, the Los Altos Rotary AIDS Project decided to distribute "The Los Altos Story" within the Rotary network to address the world-wide problem of AIDS. The goal was to alert and educate every single Rotarian in the world about the AIDS epidemic – all 1.1 million Rotarians in 25,000 Rotary Clubs worldwide.
U.S. & Canada Distribution
The Los Altos Story was distributed free of charge to more than 7,500 Rotary Clubs in the United States and Canada in 1990. Today more than 20,000 copies of the tape are in circulation throughout the world to Rotary Clubs, individuals, major corporations, educational and medial associations, public agencies, public school systems, churches and non-profit organizations such as the American Red Cross.
International Distribution
International distribution to Rotary Club presidents and district governors began at the 1992 International Rotary Convention in Orlando, Florida. Today the film is available in English, French, German, Italian, Japanese, Portuguese, and Spanish in both VCR and DVD formats. It is currently being distributed, along with copies of the book HIV, Health and Your Community: A Guide To Action, to Rotary clubs in developing nations.
---
Home | Los Altos Rotary AIDS Project | The Los Altos Story | HIV/AIDS Book Distribution | AIDS Symposium | WRAP | AIDS/HIV Facts | How You Can Help | Contact Us
© 2003. Los Altos Rotary Club. All rights reserved.