Awards and Honors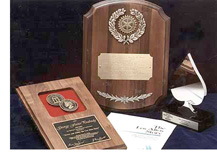 "The Los Altos Story" has received numerous awards and honors over the years including:
George Foster Peabody Award for Excellence in Broadcasting
TV Cable's ACE Award for Best Public Affairs Special
Rotary International Presidential Award of Honor for Public Relations
Commendation to Dushan Angius for Raising U.S. Awareness for AIDS from Dr. Sullivan, Secretary of Health and Human Services
Billy Spalding Memorial Award received at UN Palace of Nations in Geneva.
Dude Angius Award established by Centers for Disease Control and Business Responds to AIDS, with Dude Angius designated the first recipient.



---
Home | Los Altos Rotary AIDS Project | The Los Altos Story | Child AIDS Prevention | HIV/AIDS Book Distribution | Programs | What's New | AIDS Facts | How You Can Help | Contact Us
© 2009. Los Altos Rotary Club. All rights reserved.