Rotarians for Fighting AIDS (RFFA)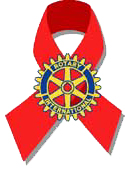 Approved by the Rotary International Board of Directors in October 2003, the Rotary Fellowship for Fighting AIDS provides a vehicle to communicate strength and solidarity on the issue of AIDS. The purpose of the fellowship is to contribute to the elimination of the HIV/AIDS pandemic.
You can help with this important effort to slow the spread of the HIV virus and to offer hope to those with HIV/AIDS around the world by becoming a member of RFFA.
For more information check out www.rffa.org


The following links to other websites provide more information about AIDS:
---
Centers for Disease Control and Prevention
---
Business Responds to AIDS and Labor Responds to AIDS
---
AMFAR — AIDS Research
www.amfar.org/cgi-bin/iowa/amfar

---
Global Strategies for HIV Prevention
---
Equal Access
---
Women, Children and HIV
---
Home | Los Altos Rotary AIDS Project | The Los Altos Story | Child AIDS Prevention | HIV/AIDS Book Distribution | Programs | What's New | AIDS Facts | How You Can Help | Contact Us
© 2009. Los Altos Rotary Club. All rights reserved.